going for gold
Brindishe Lee and Brindishe Green are the first Lewisham primary schools to have achieved a very special award to recognize their outstanding work on behalf of their communities. In May the schools were given the coveted Cultural Diversity Quality Standard Gold Award.
This award, given by the Specialist Schools and Academies Trust, celebrates the schools excellent work in promoting cultural diversity, race equality and opportunities for achievement for all children. The award covers 6 areas: ethos, achievement, curriculum, parental and community involvement, staffing and governors, projects and innovations.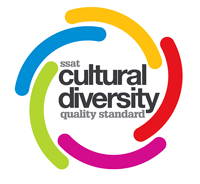 The gold award is for schools who develop strong and positive relationships in their learning communities, give everybody a shared vision, promote a sense of belonging and provide equal life opportunities regardless of cultural heritage.
Brindishe Green and Brindishe Lee Schools were assessed on a very wide range of evidence including data, results, photos, videos, testimonials, policies, interviews with children, parents, governors and staff.
After the assessor visited a decision was made about which level to award (bronze, silver and gold). Both Brindishe Schools got gold ­and will hold this award for 3 years.
Teachers Eadaoin Kelly and Liz Watson who led the schools application said, "We are immensely proud of our communities and the ways in which children, parents, staff and governors work together with such goodwill and harmony, ­ making it possible for everyone to play their part and succeed." As Tallulah, one of our 11 year olds, told the assessor, "What I like is that everyone here has a voice."
Executive Headteacher Vicki Paterson said,
"Although the two schools are given separate gold awards the best part is that working together for the award, working in true partnership, made it a richer experience and all so much more meaningful."